The more time passes, the more complicated it becomes for students to stay focused and interested in the courses offered to them via videoconference. Teachers get tired, and so do students!
If you are a student and you recognize yourself in this description, we have decided to help you in this complex period. With these tips, you will be able to give your best to your studies again.
We realise that this is not an easy task, but we wanted to write this article for you so that it can hopefully give you some support and help.
Don't forget: a drop in concentration is a natural human phenomenon: according to studies by researcher Normal Mackworth, the ability to concentrate decreases sharply after 30 minutes! Errors increase by up to 15%. As you can see, your brain has something to do with it too!
So to counter this phenomenon, here are a few tips to help you retain your lessons better in video!
Tip 1: choose an environment where you can focus on the lesson 🌱 
To achieve optimum concentration, it is important to be comfortable, but also and above all to be able to work without being disturbed by surrounding noise or cumbersome equipment. You don't have to hide at the end of your bed or follow your lesson in the kitchen! Ideally, you should have a space dedicated to your course, such as a desk with a chair. This equipment will allow you to adopt a good posture with your back straight and your feet firmly on the ground.
At the same time, you will be in a quiet place, where you are less likely to be solicited. The same applies to social networks! Keep your smartphone away from you, even if the separation from Instagram may be painful. I promise, it's for your own good! Aeroplane mode will be your best ally, as will deactivating notifications on your computer.
Of course, you should also turn off the TV and radio (we can make an exception for Britain's Got Talent, but as long as you don't have classes at 9pm, this is easily possible, at least we hope so)!
Tip 2: Keep up the pace and take
breaks after each lesson 
💆🏼‍♀️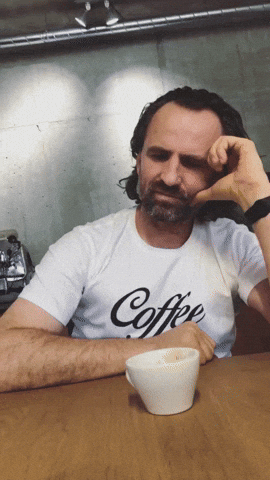 To avoid fatigue, adopt a regular rhythm and stick to it as much as possible! Choose a wake-up time that will allow you to be ready before the start of each of your classes. A good shower, a suitable outfit as if you were in a classroom and a breakfast will allow you to be in good shape to follow your lessons! This ritual will allow you to maintain good habits and avoid the early appearance of signs of fatigue.
In addition to this, give yourself regular breaks, especially if you often turn on your camera. The camera can sometimes prevent you from behaving naturally and relaxed, so remember to take breaks to relax, both physically and mentally.
You can use this time to stand up and stretch for 30 seconds to 1 minute every 30 minutes. You can also drink some water, take a walk and air out the room you are in. When you come back to your class, refocus and go back to your class and recap the latest information from your teacher: this will make it easier to listen.
After an hour or more of class, give yourself a 10 to 15 minute break, preferably away from the screens.
Tip 3: Participate during the lesson and keep in touch 📈 
The best way to get to grips with the course is to get involved and ask questions. This way, you retain more information, especially the answers to your questions. Your teacher will be delighted to be able to interact with his or her students, just as he or she can do in person! So, in a video session, don't hesitate to "raise your hand" virtually and interact with the other participants via the chat.
These interactions will also allow you to maintain the link with your fellow students who are in the same situation as you. Outside of class, contact them to help and support each other. By motivating others, you will be more motivated! In addition, don't forget that you can always contact your teachers by email to ask them new questions: if the teacher is listening to you, don't hesitate to pass on some of your concerns or problems you are having in order to ensure that your course is well followed. They can reassure you and give you new advice adapted to the subject they are teaching!
Tip 4: Maintain a healthy lifestyle even if lessons are in remote 🏃🏽‍♂️
To adopt a healthy, balanced diet that will provide you with all the energy resources you need, try as much as possible to eat wholegrain cereals, fresh fruit and vegetables, a variety of dairy products, proteins such as eggs and dried fruit. A good diet will keep you fit and help your brain to concentrate fully! Don't forget to hydrate regularly, throughout the day and with water: it's the only drink that can hydrate you properly!
To complete your routine, don't hesitate to devote some time to physical activity. Two to three times a week, you can do a sporting activity while resting and recovering in between. The aim is not to tire you out, but to keep you fit and to clear your mind and body! Whatever sport(s) you choose, select something that will not be a constraint on your schedule but a real escape!
Finally, take care of your sleep! To avoid yawning and heavy eyelids, keep a regular rhythm and go to bed before 11pm. This will help you get a good night's sleep, which will be invaluable for your concentration! 1 hour before going to bed, turn off your screens and put your phone on aeroplane mode. Choose a book that you enjoy reading or revise your lessons: this method will help you remember them!
Tip 5: Remember your lessons better with Noota 📲
At Noota, we have developed solutions to allow you to relax even more during your video lessons.
Indeed, thanks to our Chrome extension, your teacher can now record his video lessons, import them on our platform and share them with you in various forms. Via Noota, he can add subtitles to his video recording or transcribe it into a written version. All they have to do is share these documents with you so that you can benefit from the new value added to your course. These features ensure that students do not miss any of the essential information conveyed during the course!
This course delivery technique makes it easier for students to take notes of lectures and not to worry about missing crucial information. Also, the teacher no longer needs to repeat himself: he can now focus on the questions that his students might ask during the lecture. Interaction between teachers and students is easier and more fluid. Adding subtitles to the recorded video lecture can also make it easier to remember your lecture by visually associating key moments with the different information taken in notes.
So you see, Noota has all the qualities to become the essential tool for your video lessons!